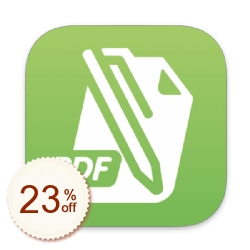 Standard - Single User
20% off $63.99
Pro - Single User
20% off $103.99
Temps limité:
PDFpenPro: PDF document operation and management Terminator

The interface of PDFpenPro is more traditional and still retains the style of the last century. PDFpenPro has roughly divided into two parts: the top is the toolbar, and the bottom is the document display page. Your PDF file starts here.

The toolbar is the core of PDFpenPro. You can add or delete tools according to your preferences. After opening the PDF file, you will find that using PDFpenPro to browse is very smooth, and there is no sign of jamming. Even if you switch back and forth between several large PDF files, it doesn't change the smoothness. PDFpen not only supports the common doc, PDF, and other formats, but you can also browse the web directly. Because it can convert the web page into a PDF document with links, isn't it amazing?

For many users, the most commonly used function is annotation. You can annotate a document by clicking on various tools in the toolbar. PDFpen puts highlight, underline, wavy line, delete line function together for convenience. Tagging features are also vibrant, including text, graffiti, comments, etc.

Here, I would like to highlight the filling function of the PDFpenPro. For documents that do not contain spaces, you can edit them by embedding text. You can also add a variety of form tools, such as checkboxes, radio buttons, multiple selection boxes, lists, signature bars, etc., which significantly improves your work efficiency.

When it comes to PDF signature, PDFpenPro can sign by hand through Trackpad, and the color and thickness of handwriting can be changed. If you need frequent signatures, the library feature can help you save it. It's convenient. It will keep the images, signatures, objects, and text that you often use. You can call it when you need it. Suppose you think the Trackpad handwriting is too bad. In that case, you can take a picture of your real signature, then drag the signature image into the document, and then make it transparent, which is just like real.

OCR is also the most magical function of PDFpenPro. It's a trump card for PDFpenPro, and it's won a lot of praise. PDFpenPro can help you open a document; the system will automatically identify the scanning trace and ask whether OCR is needed. After confirmation, PDFpenPro will automatically recognize the document and then click the "OCR layer" in the toolbar. The screen will turn into blue characters on a white background, and the recognition result will be exact at a glance. At this point, you can copy the text or directly edit and modify the original text. You can even search and replace the text content like Word.

For PDF file merging, PDFpenPro can be the ultimate. Drag the documents you want to merge into the sidebar, and then reorder the pages. Based on the powerful AppleScript function, you can arrange the page number with one-click, so easy. At the same time, AppleScript also provides another way to merge documents. Choosing "Combine PDFs" can achieve the same goal.

PDFpenPro also provides excellent performance for functions that professionals need, such as merging, splitting, and compressing PDF documents.

PDFpenPro provides a variety of security settings. It includes encrypting documents, not allowing changes to documents, including copying or extracting content, not allowing documents to be printed, and so on.

PDFpenPro supports PDF conversion to Microsoft's Three Musketeers format, TXT, RTF, print, fax, and web page formats.

In general, if you need a powerful but not too complex PDF editing and annotation application, then PDFpen is enough. It has few obvious shortcomings except for its old interface.
Tags
Caractéristiques
Questions et réponses de clients