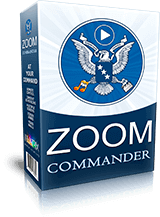 Code promo Inmatrix Zoom Commander 30% de remise
Code Promo :
Zoom Commander
30% off $69.96
Zoom Commander : Control additional PCs
30% off $34.96
Temps limité:
Zoom Commander is a Windows Computer software that can present and manage media content on multiple networks accessible computers. It's designed to share various media files such as audio, video, images on various screens connected to the command control computer. Zoom Commander is suitable for small to medium-sized companies that need to better present a project or communicate with multiple PCs simultaneously.

Support Features
- Multi-screen support.
- Content scheduling.
- Visual editor.
- Quick search.
- Media library.
- Remote display management.
- Cloud distribution.
- CMS integration.
Caractéristiques
Version :

2.0.1

Développeur :

Inmatrix

OS :
Questions et réponses de clients
🔔 How do I find my Zoom Commander license key?
Réponse
Once you complete your purchase order successfully you will get an Email including your activation key in it (Note: make sure you checked the junk mail folder as well). If you can't find it, you may submit your information on RegSupport to track your purchase.

🔔 What payment options Zoom Commander support?
Réponse
It supports Visa, Mastercard, American Express, Discover Credit Card, and also PayPal, Wire Transfer, Check/Money order.

🔔 Does Zoom Commander support 32 bit/64 bit?
Réponse
Zoom Commander is a 32bit application.

🔔 Does Zoom Commander have a mobile app?
Réponse
No, Zoom Commander does not provide a mobile app at the moment.

🔔 What is new in Zoom Commander v2.0.1?
Réponse
1. HTML (.htm/.html/.shtml) files can be added to the remote file browser for playback.
2. The notification 'An initial connection to the screen is required to display the layout preview' is added to the screen edit dialog.
3. Can disable the slideshow with a slideshow value of "0" when displaying HTML/Website content.

🔔 What is the latest version of Zoom Commander?
Réponse
The current version of Zoom Commander is version 2.0.1.

🔔 What is Zoom Commander used for?
Réponse
Zoom Commander is a Windows PC software that can easily control media playback on one or multiple computers remotely. It offers multi-screen support, content scheduling, quick search, etc.

🔔 Can I use the Zoom Commander registration code on Mac computers?
Réponse
No, Zoom Commander is not compatible with the Mac operating system at this time.

🔔 How many computers can I install Zoom Commander?
Réponse
You can install Zoom Commander on only one computer per license.

🔔 How do I get Zoom Commander for free?
Réponse
Zoom Commander offers a Free Trial Version 2.0.1, but to access the whole features you still need to purchase Zoom Commander Full Edition. It costs $99.95, but with ColorMango, you can enjoy 30% off and only pay for $69.96.


🔔 What should I do if the Zoom Commander discount coupon doesn't work?
Réponse
If the discount code for Zoom Commander does not work, please try to clear your cookies, then restart your browser or try another web browser (You may refer to ColorMango Coupon Using Guide.). If the discount coupon still does not work, please Contact ColorMango, we will offer you a $10 off sitewide coupon when we have confirmed the invalidity of the coupon code.

🔔 Where can I find the biggest coupon code for Zoom Commander at the best price?
Réponse
ColorMango offers the exclusive largest discount for Zoom Commander. You can get Zoom Commander and Zoom Commander (Control additional PCs) at their lowest prices for $69.96 (was $99.95) and $34.96 (was $49.95) with ColorMango 30% off coupon code.

🔔 Is there any discount if I need a Zoom Commander multi-user license?
Réponse
Zoom Commander (Control additional PCs) is available with a 30% discount for only $34.96 instead of $49.95 at ColorMango.com. Same for Zoom Commander, it costs $69.96/lifetime/user with ColorMango 30% off coupon code.

Voir plus de questions ayant reçu des réponses (17)
Poser une nouvelle question
Recommandations