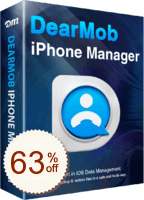 Free update within 1 year / 1 PC
50% off $29.97
Lifetime update / 2 PCs
63% off $29.90
Lifetime update / 3 - 5 PCs
63% off $39.94
Free update within 1 year / 1 Mac
50% off $29.97
Lifetime update / 2 Macs
70% off $20.10
Lifetime update / 3 - 5 Macs
63% off $39.94
Giveaway License
100% off $0.00
Temps limité:
I believe that for many iOS users, the iTunes interface is very complicated to use, but the way of operation is very different from the apps we are used to in daily life. Whether it is synchronizing photos, transferring music, making ringtones, or even backing up iPhones, it is a big problem for novices. It can be said that iTunes is a nightmare at all. If you don't believe me, ask my friends who use iPhone how many people use iTunes? You will know that the bad feelings are definitely not bluffing. But don't worry, today I'm going to introduce you to an easy-to-use and powerful iTunes replacement software-DearMob iPhone Manager.

DearMob iPhone Manager can do most of the iTunes functions (only can't listen to Apple Music) and can do many things that iTunes can't do, such as transferring photos to the computer, encrypting files, turning the iPhone into a flash drive, etc. DearMob iPhone Manager lets you use iPhone more conveniently.

DearMob iPhone Manager is a simple IOS manager that can backup and restore iOS data without iTunes. And it can help users offline backup iPhone or iPad data files to personal computers or Macs, freely manage or transfer any iOS files, bid farewell to the situation of only using iTunes local backup or iCloud cloud backup. Meanwhile, innovative use: The method of encrypted transmission of data files ensures data transmission security based on simple and fast transmission.

DearMob iPhone Manager provides a one-click solution for backing up iPhone and restoring to a new iPhone and allows you to selectively back up the iPhone data you need, such as photos, videos, music, contacts, etc. Discard useless junk files with a simple drag and drop method. With DearMob, all iOS backups can be retrieved through records. No longer worry about iOS data loss.
Tags
Caractéristiques
Version :

5

Développeur :

DearMob

OS :
Questions et réponses de clients
Recommandations