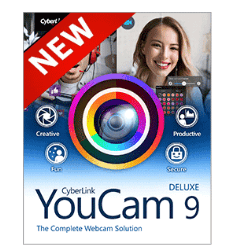 Temps limité:
CyberLink YouCam is a camera enhancement software, which can add various special effects to the pictures in video calls and make the chat process more lively. It has built-in many funny special effects, and you can also record the whole video chat process through it.

CyberLink YouCam is widely rated as the best webcam software for Windows by users and media. YouCam is the essential software for video conferencing, real-time streaming, business presentations, and informal video chat.

YouCam 9 can integrate seamlessly with popular video conferencing applications, including Cyber Link U Meeting, Skype, and Google Hangouts. Besides, YouCam 9 supports broadcasting services and software such as Twitch, Facebook Live, YouTube Live, OBS Studio, XSplit, and Wirecast. Once YouCam is set as the default camera, users can immediately use more than 200 webcam effects.
Tags
Caractéristiques
Classement des meilleures ventes:
Questions et réponses de clients
Recommandations