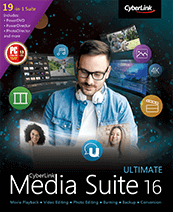 Ultra
10% off $116.95
Ultimate
10% off $134.95
Temps limité:
CyberLink Media Suite is an all-in-one multimedia file editing tool. Its system comes with a complete suite of video editors. It contains all the applications needed to make full use of the multimedia library. Among many other tasks, users can upload files on CD or DVD. Burn your music collection, create backup copies of the essential files, and design photo slideshows to share with family and friends. It includes various tools that can perform various functions, such as video editing, movie production, burning discs, and backup and recovery.

Additionally, CyberLink Media Suit can help users create, edit, manage and share media such as photos, music, and video content. When you have this software on your computer, it means that your computer has its burning machine, which is where you put the CD. You can use a blank CD to burn anything, music, video, CD, DVD, etc.

CyberLink Media Suite has two different editions: Essentials and Premium. By default, the Essentials version will be installed on the Windows system. The Premium version will be provided to customers as an upgrade after the point of sale. Each version has a series of tools that can execute different tasks.
Tags
Caractéristiques
Version :

16

Développeur :

CyberLink

OS :

Licence :

1 PC, One-Time Fee
Questions et réponses de clients
Recommandations