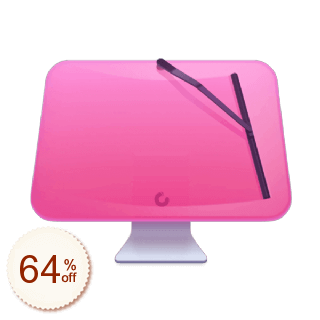 Code promo CleanMyMac 60% de remise
Code Promo :
1 Mac - 1 Year / Major upgrades free
13% off $34.91
2 Macs - 1 Year / Major upgrades free
31% off $54.89
5 Macs - 1 Year / Major upgrades free
60% off $79.90
1 Mac - One-Time / Minor updates free
$89.95
2 Macs - One-Time / Minor updates free
25% off $134.92
5 Macs - One-Time / Minor updates free
56% off $199.68
Previous Versions Upgrade
56% off $17.45
Student Discount
30% off $24.46
Competitor Discount (need other Mac cleaner or antivirus)
40% off $20.97
Temps limité:
Macs use high-speed SSD solid-state drives, the storage space always running out, so an "Excellent MacOS cleaning tool" can be necessary for Mac users. CleanMyMac has the best reputation, quality, and sales! Which can be called a super tool for cleaning and optimizing the MacOS system.

CleanMyMac X has a brand-new interface design and more comprehensive system optimization and maintenance functions, making it still the best optimization&cleaning application on macOS.

As the most well-known Mac cleaning application, CleanMyMac X can efficiently scan and clean system garbage, delete duplicate images, help you uninstall applications and games completely, and manage various MAC plug-ins and extensions. CleanMyMac X can provide features that you want.

CleanMyMac's interface design is meticulous! Whenever it looks or works, it feels very comfortable. The exact division of the interface, although many functions are very professional, is not complex to use, and you will feel extremely simple and practical! Most of the time, you can make Mac run smoothly like a new machine with one click.

CleanMyMac features:
- One-click intelligent scanning, efficient cleaning system garbage;
- Intelligent App uninstallation, which can completely uninstall the app without leftovers;
- Search and delete useless large files and free up hard disk space;
- No advertisement, no pop-up window
- More than 10+ optimization functions available.

In short, as an easy-to-use and robust MacOS system optimization and maintenance tool, CleanMyMac is necessary for every Apple user.
Tags
Caractéristiques
Version :

X

Développeur :

MacPaw

OS :
Classement des meilleures ventes:
Questions et réponses de clients
CleanMyMac is a malware-free program, which is notarized by Apple.

🔔 What is the CleanMyMac refund policy?
Réponse
There is 30-day money-back guarantee with CleanMyMac.

🔔 How long will I receive the registration code after I complete the order?
Réponse
You will get an activation code in your mailbox once you purchase CleanMyMac successfully. If you can't find it, please submit your information on MacPaw License Management to retrieve your license.

🔔 What payment options CleanMyMac support?
Réponse
CleanMyMac supports payment via Visa, MasterCard, American Express, PayPal, and UnionPay.

🔔 What is the limitation of the CleanMyMac trial version?
Réponse
CleanMyMac free trial limitation includes junk removal limitation, malware removal limitation, speed limitation, application uninstall and update limitation. For more info of trial limitations, please refer to CleanMyMac X Trial Knowledgebase.

🔔 Is it free to update CleanMyMac to the latest version?
Réponse
If you own CleanMyMac 3, CleanMyMac 2, or CleanMyMac Classic, then you can get a 50% discount for upgrading to the latest X version.

🔔 What's new in CleanMyMac X?
Réponse
CleanMyMac X has stronger maintenance capabilities than CleanMyMac 3, which includes more powerful Smart Scan, the upgraded Menu, Malware Removal, etc. For more information, please refer to CleanMyMac X Evolution.


🔔 What is the latest version of CleanMyMac?
Réponse
The current version of CleanMyMac is CleanMyMac X.

🔔 What is CleanMyMac used for?
Réponse
CleanMyMac is an all-in-one package to optimize your Mac performance in 4 ways: Cleaning, Speed, Protection and Application management. It assists your Mac to be forever young and productive.

🔔 How many computers can I install CleanMyMac?
Réponse
This is up to what type of CleanMyMac license you have. CleanMyMac offers licenses for 1 Mac, 2 Macs and 5 Macs.

🔔 Where can I find the biggest coupon code for CleanMyMac at the best price?
Réponse
ColorMango provides up to 60% discounts on CleanMyMac licenses and you can save up to $249.80.

🔔 Is there any discount if I need a CleanMyMac multi-user license?
Réponse
Yes, there are volume discounts for the CleanMyMac multi-user license. For 2-Macs/5-Macs Licenses, you can save $24.95/$119.80 for a one-year subscription, or $44.95/$249.80 for a one-time purchase.

🔔 Does CleanMyMac have a student discount?
Réponse
Yes, if you are a student or educator, you can submit your .edu email and get a special 30% discount on CleanMyMac X.

Voir plus de questions ayant reçu des réponses (16)
Poser une nouvelle question
Recommandations