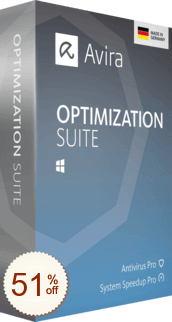 1 Device / 1 Year
50% off $28.99
Temps limité:
Avira Optimization Suite is a secure and system optimization products suite. It contains Avira Antivirus Pro and Avira System Speedup Pro in one package.

Avira Antivirus Pro
Avira Antivirus Pro is powerful anti-virus software. I believe everyone knows that it has outstanding performance in anti-virus protection, performance, and usability. It is the best choice for top-level malware and ransomware protection. It can quickly help users clean up adware and spyware, detect all known threats, and repair damaged files. Avira Antivirus Pro is very small. Using it will not have any impact on your computer operation at all. Avira Antivirus adopts cloud protection technology, which can anonymously analyze unknown files from millions of users in the cloud so that your computer will not be infringed. Today, cybercrime is rampant. With Avira Antivirus, your privacy and data security are guaranteed.

Avira Antivirus Pro functions
1. Advertising and spyware: remove stubborn pop-up windows and other spy programs;
2. web browsing protection: prevent harmful websites from being tracked;
3. Fast and secure download: download any file safely online;
4. Secure online shopping: secure online banking and payment transactions;
5. Real-time protection: Cloud security prevents viruses, worms, hackers, and Trojans;
6. Cloud scanning technology: innovative detection technology based on new cloud scanning;
7. Mail protection: Keep infected emails away from your mailbox;
8. Anti-phishing and safe online shopping: actively protect you from phishing websites;
9. Network drive protection: scan shared folders and network drive malware;
10. Online management: Manage your multiple devices based on the online web platform;
11. Upgrade interval: upgrade the virus database every 2 hours;
12. Free technical support: unlimited calls to Avira security experts.

Avira System Speedup Pro
If your computer system becomes slower and slower, please don't rush to upgrade and replace your computer hardware. A system optimization software can easily help your system become faster.

Avira System Speedup Pro is a powerful system optimization acceleration and cleaning tool. It scans to repair the waste of device storage space, process errors, incorrect registry entries, and other issues. It is designed to provide users with all-around protection, easily PC Speed-up, quick start, and effectively release your storage space and memory to avoid unnecessary occupation.

Avira System Speedup Pro can clean up your system and your browser cookies and junk files. It can well clear all kinds of privacy cookies to ensure your privacy and security and bring faster Internet speed to protect your system and browser Safe and minimize system crashes. The software includes 30+ advanced tools in total, allowing your computer always to maintain the fastest performance.
Caractéristiques
Version :

1.2.152.14759

Développeur :

Avira

OS :

Licence :

1 Device / 1 Year
Questions et réponses de clients
Recommandations